Shape the future of the MEDICAL VOICE CENTER
Looking for a partner in our voice clinic
The MEDICAL VOICE CENTER (MEVOC for short) is unique in Germany and, as a multidisciplinary center, specializes exclusively in the treatment of all aspects of the voice and larynx. Superior diagnostic techniques and a medical spectrum covering the entire range of treatment of voice disorders as well as all phono- and microsurgical surgery methods on voice and larynx are the pillars of our work. Speech therapy, vocal pedagogy, and osteopathy are part of the interdisciplinary treatment concept. A special focus is the voice feminization of transwomen and the treatment of professional singing voices.
Founded in 2014, MEDICAL VOICE CENTER is experiencing year-over-year growth in patient numbers and increasing demand for surgeries and therapies. To meet this growth, we need the support of a partner with a penchant for and experience in surgery. A step-by-step acquisition of the MEDICAL VOICE CENTER is wanted.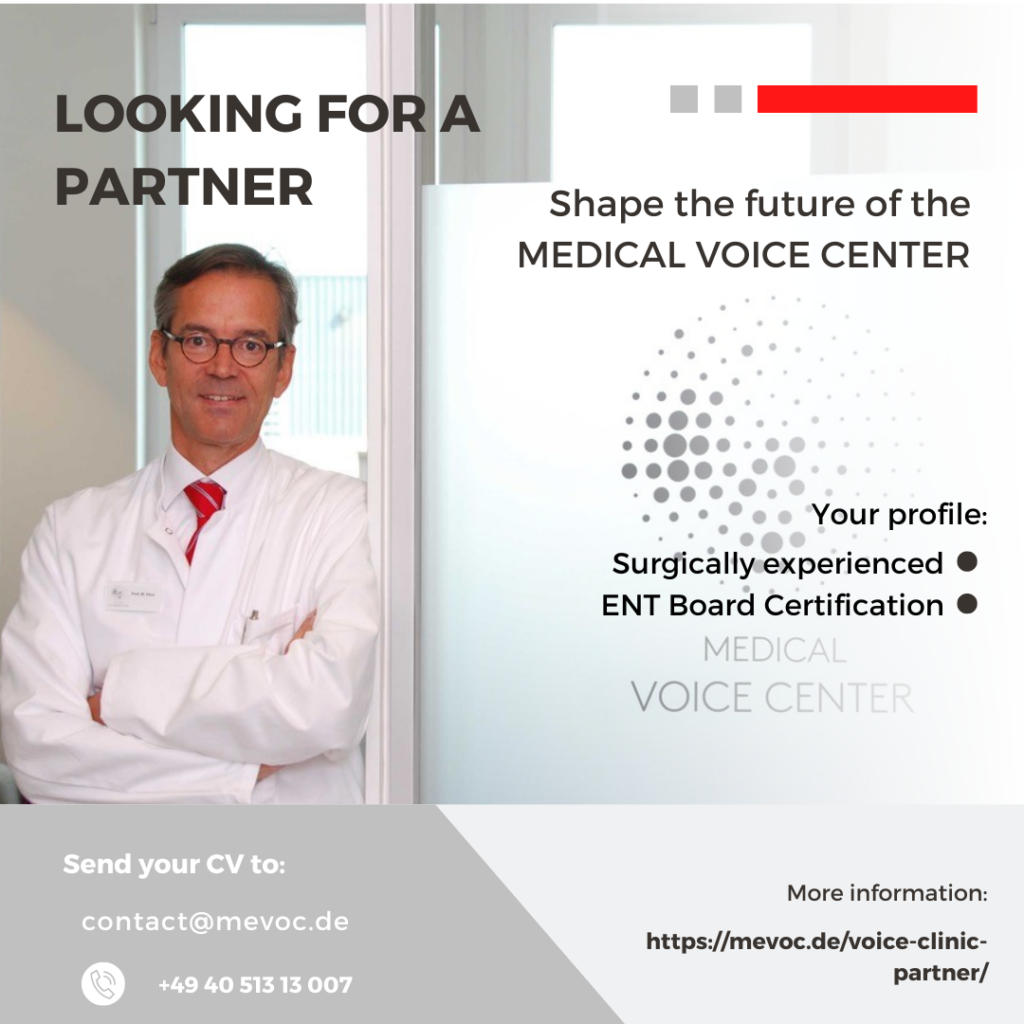 There are moments in life when you just have to do it.
Your profile
Board Certification in otolaryngology and/or phoniatrics

Professional concentration in laryngology and related fields

Experience with surgical procedures in the laryngeal area

Understanding of and ability to manage a practice economically

Ability and willingness to establish new fields of treatment

No shyness about digitalization and public relations

Fluency in English and willingness to learn the German language
In order to know that the MEDICAL VOICE CENTER is also in good hands on the long run, we are looking for a partner who would like to join us as a future successor. We like to hand over all our knowledge and will also provide him/her with shadowing opportunities at the most recognized voice centers in the world.

If you are interested, please let me know. However,

I won't leave that fast. I will gradually step down until 2030.
If you desire to work and create independently and value a well-established and successful private practice, then we look forward to meeting you as a possible partner.
If we have aroused your interest and you would like to get to know us, we would be pleased to hear from you.
Feel free to write to us at contact@mevoc.de.