Welcome to the MEDICAL VOICE CENTER
The specialists for your voice
Highly specialized experts

The MEDICAL VOICE CENTER is unique and, as a multidisciplinary center, specializes exclusively in laryngeal surgery and voice rehabilitation. It was founded in 2014 by Prof. Markus Hess for the diagnosis, treatment, and prevention of voice disorders. Patients from all over the world are treated here.
We care for all 
voice disorders
 with an experienced team of experts including doctors of phoniatrics (specialists in the voice), otolaryngology, speech therapists, vocal pedagogues, and the most internationally experienced laryngeal osteopath 
Jacob Lieberman.
Prof. 
Markus M. Hess (Wikipedia)
is, with about 1,000 phonosurgeries and voice enhancement procedures per year, one of the world's most experienced voice surgeons.
See how a Laryngeal Endoscopy / Laryngoscopy is performed in our clinic

We treat the full spectrum of voice problems, from laryngitis and voice strain to more complex problems such as atrophy, hemorrhage or scarring of the vocal cords, vocal tremors, and laryngeal papilloma. We can also help with voice problems related to acid reflux (GERD), chronic cough, and swallowing disorders. We are specialists in voice feminization surgery.
High-class medicine meets high therapeutic specialization, personal attention, and beautiful ambiance.
Having a healthy voice is important for everyone, whether you are a professional singer, teacher, or salesperson, or simply like to read aloud to your grandkids. If you suffer from hoarseness or trouble with your voice or throat, the voice specialists at the MEDICAL VOICE CENTER can help.
The most common voice disorders of our patients:
Advantages that give you security
Interdisciplinary diagnostics and treatment in one place

State-of-the-art surgical techniques and longtime surgical experience

Pioneer in laser phonosurgery

Specialized in the treatment of singers (rock'n pop, musical, classical)

Specialized in the treatment of professional speakers (moderators, actors, teachers)

Active research and the highest scientific level
When you enter the MEDICAL VOICE CENTER, the bright, modern atmosphere creates a welcoming and serene ambiance that does not remind you of a clinic. Here are the preliminary talks, examinations, operations in local anesthesia, aftercare, and voice therapies. It is a place where you can feel at home, surrounded by a team that understands you. In the outpatient surgery centre (AOZ), about 200 m further away, the surgery is carried out under general anaesthesia. The AOZ is equipped with the latest equipment of state-of-the-art instruments. In the same house, the Facharztklinik is our station for inpatient treatment, if the procedure can not be performed on an outpatient basis. An empathetic care team is responsible for your well-being around the clock.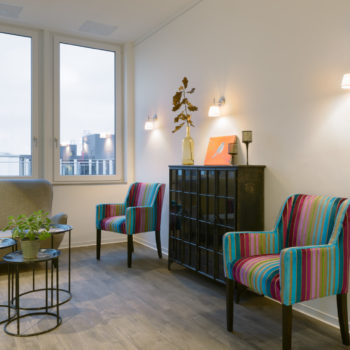 Patients from 57 countries trust us
Patients from 57 states (25.3%), August 2022